PALO ALTO, Calif. /ScoopCloud/ -- WordSphere LLC, a leading Palo Alto based tech company, announced today the completion of its acquisition of DrupalWare. DrupalWare, a tech company known for its cutting-edge software solutions, is one of the leading Drupal development agencies in the USA, responsible for sites like Tesla and Pfizer.

The 6.8 million dollar cash acquisition will include the DrupalWare website/brand, a portfolio of 164 active clients as well as 6 Drupal specialists who will transfer into WordSphere LLC's senior DevOps team. DrupalWare has a strong track record of delivering top-quality products and services to its clients, and we are excited to bring their expertise and innovation into the WordSphere LLC family.

"This acquisition will enable us to expand our product offerings and better serve the needs of our clients," said Mark Glixman, WordSphere LLC's enigmatic CEO. "We believe that this acquisition will be a win-win for both companies and our customers."

DrupalWare was founded by a senior website developer Randall Goya and for a number of years, was an award-winning national leader in Drupal CMS development. DrupalWare's clients included Pfizer, Tesla Motors, the City of New York, NY MTA, Columbia University, B&H photo, and many other Fortune 500 companies. DrupalWare specializes in Drupal, Acquia Drupal, and WordPress CMS (Content Management Systems).

DrupalWare also deals with a myriad of other platforms, including Joomla, Magento, PHPMotion, and Asp.net, as well as provides custom-built web solutions with PHP, MySQL, AJAX, JavaScript, DHTML, and CSS.

This key acquisition will provide WordSphere LLC with an additional 150+ clients as well as strengthen our team's Drupal capabilities to the next level.

"We are big believers in building out the best DevOps team, one that encompasses all technologies. There are many legacy websites built in Drupal that constantly need maintenance," said Rakibul Rajib, WordSphere LLC's CTO.

WordSphere LLC is primarily focused as a WordPress website development company, mainly offering services in WordPress customization, modification, theming, advanced WordPress custom themes, custom plugins, buddy press customization, and e-commerce/WooCommerce. WordSphere LLC also offers services in other CMS like:

Drupal: https://wordsphere.com/drupal/

BigCommerce: https://wordsphere.com/big-commerce/

Shopify: https://wordsphere.com/shopify/

Our team provides a variety of front-end and back-end development services utilizing more modern stacks like React, Node, Svelte, Typescript, ExpressJS, AngularJS, Vue.js, Next.js, PHP, OOP, Laravel, Codeigniter, Ruby, Python (Django) and many others.

We are confident that the combined strength of WordSphere LLC and DrupalWare will drive growth and success in the industry. We look forward to working with the talented team at Drupalware and leveraging their expertise to deliver even more value to our customers.

Drupal is currently utilized as the technology stack behind eBay, Nokia, McDonald's, Charles Schwab, Entertainment Weekly, Tesla, The Australian Government, The Emmy Awards, NASA, Harvard University, Stanford University, and many others. Over the last decade market shares of the Drupal CMS platform have been overtaken by WordPress, Shopify, Wix, Squarespace, and Joomla (2022 CM Survey). Drupal sits in the 6th position. It's used on 1.2% of all sites with a known content management system, equaling a 1.8% market share.

WordSphere LLC is already used to the limelight, after recently releasing its new live consulting development service ( https://wordsphere.com/live-consulting/ ). This aims at disrupting the current market trends and giving people direct access to senior web developers, live. Stay tuned for updates on this exciting new chapter in the WordSphere LLC journey.

WordSphere LLC, 5500 University, Parkway, San Bernardino, CA; wordsphere.com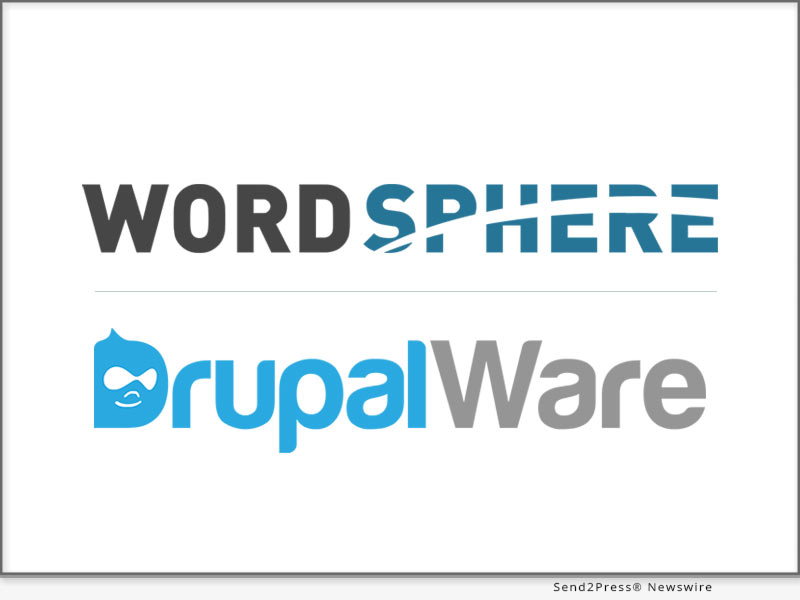 WordSphere LLC, a leading Palo Alto based tech company, announced today the completion of its acquisition of DrupalWare. DrupalWare, a tech company known for its cutting-edge software solutions, is one of the leading Drupal development agencies in the USA, responsible for sites like Tesla and Pfizer.
Related link: https://wordsphere.com/
This version of news story was published on ScoopCloud™ (ScoopCloud.com) - part of and © the Neotrope® News Network - all rights reserved.